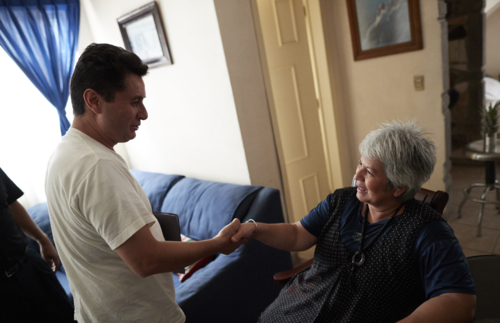 In the school of mortal life, the Lord invites us to learn and grow in lifelong and eternal ways by loving Him first and by strengthening one another in His love.
Strengthening one another in the Lord and in His love is embodied in the first and second great commandments. As a First Presidency letter recently taught, "The Savior's ministry exemplifies the two great commandments: 'Thou shalt love the Lord thy God with all thy heart, and with all thy soul, and with all thy mind' and 'Thou shalt love thy neighbour as thyself' (Matthew 22:37, 39)." The First Presidency letter continued: "In that spirit, Jesus also taught, 'Ye are they whom I have chosen to minister unto this people' (3 Nephi 13:25)."1
The song of our risen Savior's redeeming love celebrates the harmony of covenants, which connect us to God and to each other, and of the Atonement of Jesus Christ, which helps us put off the natural man and woman and yield to the sanctifying "enticings of the Holy Spirit" (Mosiah 3:19).
That harmony is expressed in the plan of happiness, where we learn and grow by daily exercise of individual moral agency and where we are not left to wander on our own but are given a covenant path and the gift of the Holy Ghost. Alpha and Omega (see Doctrine and Covenants 61:1), the Lord Jesus Christ, is with us from the beginning. And He is with us to the end, when "God shall wipe away all tears from [our] eyes" (Revelation 7:17), except our tears of joy.
Our covenants connect us to God and to each other. Meant to be eternal, our covenants include God our Eternal Father and His Son, Jesus Christ. Eternal covenants can bring the power of God's love—to give hope and increase love; to lift and transform; to edify and sanctify; to redeem and exalt.
In the revelation of our true, divine selves through our covenants with God, we learn to recognize and love our brothers and sisters as He does. This deepening love and knowledge invites, empowers, and sanctifies us to know and, in our own way, to become more like Him.